Posts: 5
Joined: Mon Nov 21, 2016 4:48 pm
The game fails to launch when I open the RPMod, and the JKA Multiplayer stops working is the warning I get. I've reinstalled the game from scratch, mod and all. Any suggestions?
I have a question, are you using Jedi Academy through Steam?
I am not sure what the problem is. Do you have the latest RPmod, maps and so forth ? Are you using any mods along with it, or launching it from MP mode and then running it from the mods selection list ? Have you patched the game to patch 1.01. ?
Usually, I launch the game through the RPmod launcher, and wait for it to download all the assets, maps, skins, models and other stuff before trying to access the game.
RPmod download link :
https://rpmod.jediholo.net/news/view/na ... t-released
Patch link :
http://www.softwarepatch.com/games/jkac ... 1.exe.html
Follow the guide on the RP mod link to install and download the files necessary, and use the patch in your base folder to have it patched. If that does not work, maybe you need to update your drivers or something ? I may be wrong though.
Posts: 5
Joined: Mon Nov 21, 2016 4:48 pm
I am running the standalone game. I've redownloaded the mod and patched it accordingly but everytime I use it, the game the following shows up: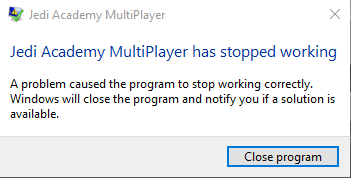 All of the maps and things supplied by the RPMod have been downloaded properly.
Have you tried running it through the RPmod launcher, instead of running the usual multiplayer one ? And are you running it in any compatibility mode and/or administrator ?
Posts: 5
Joined: Mon Nov 21, 2016 4:48 pm
I am running the RPMod Launcher in Administrator mode and compatibility mode for windows xp serviced pack 2
Well, what comes to mind to me that might be causing the issue is to update all of your drivers, direct x, java, and the like. Other than that, also try playing with the compatibility mode. No other ideas come to mind.
Lost One
Posts: 344
Joined: Sat Nov 19, 2016 2:34 pm
In order to help you better you could give us some useful informations such as :

- Your operating system
- Your version of the game : Vanilla game (with cd's), Steam or OpenJK version...
- Can you tell us if you have the dll : opengl32.dll on your Gamedata folder ?


Imo runnig the launcher in administrator is not very useful because as it says it "only" launch the game with additional parameters. You can try to put admin mode and compatibility modes on jamp.exe instead. You usually find it there : Program Files (or Program Files x86 on 64bits)\LucasArts\Star Wars Jedi Knight Jedi Academy\GameData
◄▌Name : Trin Oniron ∴ Age : 42 ∴ Birthdate : 345.19▐►
◄▌Homeplanet : Nagi ∴ Initiated : 357.21 ∴ Apprenticed : 358.22▐►
◄▌Mentor : Rehkea'sitra, Isane Fenris, Jerex Sol▐►◄▌Padawan : Kir Darnic▐►
Posts: 5
Joined: Mon Nov 21, 2016 4:48 pm
Lost One
Posts: 344
Joined: Sat Nov 19, 2016 2:34 pm
So it looks like you where missing the onpengl32.dll.

See you in game then.
◄▌Name : Trin Oniron ∴ Age : 42 ∴ Birthdate : 345.19▐►
◄▌Homeplanet : Nagi ∴ Initiated : 357.21 ∴ Apprenticed : 358.22▐►
◄▌Mentor : Rehkea'sitra, Isane Fenris, Jerex Sol▐►◄▌Padawan : Kir Darnic▐►